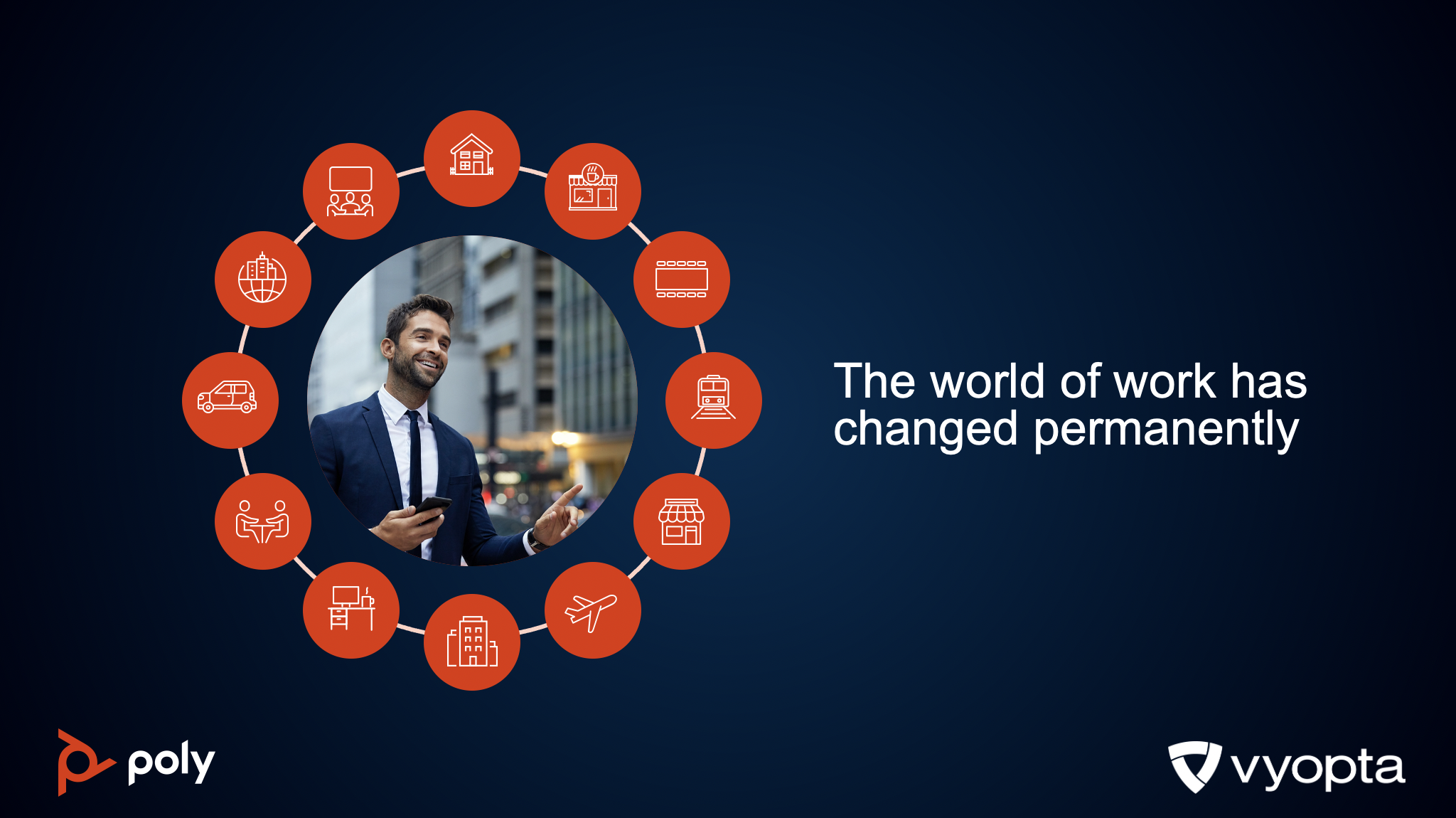 Dave Shull, Poly CEO, shared trends in hybrid work and what we should all be considering in the road ahead in unified communications and collaboration. Check out his Vyoptaverse 22 session below!
SPEAKER: Dave Shull, CEO of Poly
DAY 1 SESSION: KEYNOTE
[01:12:42] "Thanks for the introduction, Dave. It's a genuine pleasure to be able to share time, ideas with all of you. I'd like to start by sharing a little bit of the context for why I'm here, my own personal journey, that ultimately brought me to this keynote at Vyoptaverse. You know, in the summer of 2020, I was completing my own intensive due diligence on the enterprise communication market. I'd been offered the opportunity to become Poly's CEO, but before I took it, I wanted to have a clear picture for myself of the opportunities presented by both the current and future state of communications.
[01:13:16] One thing became very clear to me. Despite extraordinary advances in technology over the past 20 years, and in particular, in our ability to personally connect and communicate with one another, workplace communications had genuinely failed to live up to technology's promises. In the workplace, while people could certainly connect with one another, that's not nearly the same thing as people creating an actual working connection. And if anything, the business communications, the IT infrastructure that was supposed to deliver on this amazing promise, it was actually getting in the way of a real connection.
[01:13:52] Just two years ago, right, let's all think back pre-pandemic just two years ago, the only way to have a video meeting at most companies was to really book the boardroom at HQ, and then to have half of the IT department on standby while people try to figure out how to turn it on and then connect to some other boardroom overseas. Participants often found themselves talking to some camera 20 feet down the room that looked like a bowling alley. It was a terrible experience. Every business meeting from an IT point-of-view was exciting but for all the wrong reasons. It was always the CEO hitting the wrong button or someone not knowing how to dial into the call. With the audio work, could the people dial in remotely? The camera in Chicago was always focused on the general counsel's nose, right? It always was wrong for some reason. That was a terrible past of miserable remote work, and so that was the context that I was looking at when I thought about the unified communications space or the enterprise communication space or collaboration. Pick your buzzword, right? And that wasn't inspiring for real work to get done; the kind of thinking and learning, selling, negotiating, arguing, and innovating that is the lifeblood of all business. We have to not only connect to people, but we have to foster a real connection with that connection.
[01:15:07] So, two conclusions. Enterprise communications was ripe, is ripe, for revolution. My daughter who's eight can painlessly get ahold of me by one click on FaceTime and she can then negotiate via video with her dad or her mom that she wants to sleep over with her friends. If she could do that with one click, why can't our salespeople, my attorney, my doctor, reach me by video and have a much more important conversation with one click without setting up some sort of massive infrastructure. Two: Business pre-pandemic was thinking far more slowly about communications because, candidly, it wasn't that important. It wasn't the lifeblood of the business and companies only respond when their competitive existence is at stake.
[01:15:57] So, we all know that at times there's always early adopters of technology, and those companies that are early adopters, they go in and they adopt the cutting-edge technology because it's a competitive differentiation for them. Putting PCs on desks, putting copiers and fax machines and printers in every office—that didn't happen overnight, and where it happened more quickly was because the company thought that it was a competitive advantage for them to move more quickly into the new technology. It's taking years. Eventually, of course, we got rid of fax machines, mostly. We're now using modern printers. We all have cloud-based infrastructure. But the companies that move first were those that really saw a competitive advantage in that movement, and so, therefore, they made the investment from the CapEx, the training, the OpEx it has required to pull that off.
[01:16:44] Nonetheless, despite these problems, I took the job of Poly because I saw an opportunity. I saw I saw an industry that was at the cusp of a generational change. COVID had just started. There were inklings that we have to figure out Zoom, gotta figure out Teams, right, but we're not quite sure how it's all going to come together. And so, Poly felt like it was on the cusp of something pretty special.
[01:17:06] 18 months ago, I told my board as an incoming CEO that work was changing, that work forces were becoming increasingly distributed, every medium was going to have remote participants, and every meeting was moving to video. That was a bold claim 18 months ago. We weren't all sure whether the pandemic was going to last for two months or two years or three years, whatever it's going to be at this point. The question of the point was not whether something was going to change. The question was how permanent, how durable was that change going to be? How permanent is the change in the world of work, or are we at some point going to go back to the way things were before? Now when I talk to my customers, I hear consistently the world of work's changed; we're facing the Great Resignation and we have to do things differently; we need to find a way for people to come into the office and collaborate; we need to make sure that every single meeting can handle a video remote participant as well.
[01:18:02] You know, I think there's something else that is even more compelling when it comes to our market. A lot of businesses across a number of categories saw some big swings in demand over the course of the pandemic. It's become evident that in many cases, the pandemic actually pulled the demand forward and future growth opportunities for a large subset of businesses have moderated as a result as the pandemic has gone through its various phases. But for enterprise communications, I believe the pandemic crystallized the need for every business to commit to a communications infrastructure that can support hybrid work, and the demand is still there. This is a permanent, durable change. You know, I'm the kind of CEO that believes I have the most to learn from my customers, and so I've spent a lot of time talking to see CEOs, CIOs, CHROs, heads of facilities. It's a whole another gamut now in terms of who's being involved in these conversations.
[01:18:58] And we've just launched last week, I was in New York, we just launched a new Poly Experience Center. We have them around the world and it's a phenomenal way to have a dialogue with customers and really start to understand these tectonic shifts that are happening in the market dynamics and what it means to them.
[01:19:12] Of course, there's a first order problem that a lot of companies have now: legacy gear, legacy infrastructure, and that gear is simply not capable of handling the exponential growth of communications demand within the organization. They have bandwidth constraints, they have video quality constraints they gotta deal with, and so they're all reevaluating their legacy on-premises gear, adding video capabilities to 10s of millions of conference rooms. 10s of millions of conference rooms and converting hundreds of millions of desktop phones off of the old on-premises PSTN lines into a more modern cloud technology or headsets.
[01:19:52] Every professional now, of course, knows that they're going to have to be doing some sort of work from home. If it's not home, it's probably a Starbucks. It's any place that's really not their office. Their kids are getting sick of them from stealing their gaming headsets, which can be great by the way, and they want to have prograde communications gear, audio and video that travels with them; it's gotta be small and still be able to deliver professional results. So there's an undisputed need for hardware and software at about just every business on the planet, and while the demand for this equipment has effectively doubled because people need both gear for both the offices and for home.
[01:20:29] So at Poly, in my company, we've characterized this as a demand supercycle. It is simply the scramble of decent, smart and cloud rated gear into the hands of employees. It's a huge growth driver and I think this year, this software, this infrastructure is really just the table space, the beginning of where we need to go from a modern collaboration point-of-view.
[01:20:53] The second order application and the real challenge of hybrid work is going to be developing technology and services that don't simply connect people, but to the point I made earlier, that allow people to really connect. Our job, and by that I mean, the mutual challenge of all of us attending this event is to not only get the best communications gear into the hands of every person who needs it, but to create the technology and the tools and ensure that everyone in the meeting can be confident that the playing field their ability to contribute, their ability to innovate, their ability to say, "hey, I want to be heard," has to be amazing because the technology is that good so that it feels seamless whether they're in the room or outside of the room.
[01:21:39] As the CEO where recruiting, retaining top-level sales people, of course, but also engineering professionals and finance professionals, it's hugely critical to us, especially in a tight labor market where there's so much geographic flexibility for employees and so making sure that we get this right that we have incentives for people to stay with us because they feel like they're able to have a seat at the table regardless of where they live; it is absolutely vital and is strategic for us as a company, and that's what's driving our investment as Poly. Companies that that don't make this investment, they're not just having substandard medians, but they're also going to lose people who want the flexibility and business opportunities because customers also want that flexibility. They're going to find themselves at a fundamental competitive disadvantage regardless of what industry they're in.
[01:22:31] Now, as I mentioned, I've spent a lot of time as CEO sitting down with our customers, some virtually and as much as possible in person, and their feedback is consistent across the board. They just want to make it work. Their feedback to me is: "The technology is complicated. Just make it work." And I have to say the customers are right. To underscore this let me share some findings from our own research on hybrid work that I think you'll find very, very interesting, and then highlight just how central it is to an employee, to a person's experience at work.
[01:23:05] Let's start with this truth. First of all, today hybrid work is in near-universal expectation for both workers and employers. So given that it's obvious that the tools that enable hybrid work actually have to work and they have to just work, and if they don't, that could be a significant stress trigger for workers, which means higher distraction, lower productivity, and ultimately, as a CEO, lower retention. In fact, there's a recent article in The Wall Street Journal I'm going to quote here for just a minute:
"…for many employees, going to work is like stepping back in time. We are faced with clunky interfaces, systems that don't talk to one another, and complex sign-ons. Indeed, workplace software it is often so complex that employees need dedicated training courses just to learn how to use it. All of which leads to a simple question: Why isn't workplace technology as easy to use as personal technology?"
[01:24:07] In our own research, we asked workers about work related pressures, and 30% of them cited factors, such as heavy workloads and personal pressures, as stress triggers. Both of these, of course, are understandable, and in many cases, neither may be immediately or practically addressable. However, a second set of factors are arguably more rectifiable because they also cause distractions and stress, but they're within our control as employers. For example: loud working spaces, 25%; lack of technology support, 21% of respondents; out-of-date clunky video conferencing technology, 17% of respondents; in faulty headsets / poor audio, 16%. They're cited as stress triggers because it's always that noisy neighbor or it's the distraction in the video behind you that makes you feel like you can't negotiate that deal or you can't perform the way you want with your colleagues or with your boss.
[01:25:04] It's not just workers that are bothered by immediately addressable video needs. Again, these are video stressors, workplace stressors, that are within our control. Business leaders cited allowed working spaces, 23%; lack of tech support, 22%; faulty headsets / poor audio, 20%; an out-of-date clunky videoconferencing, 17% as leading contributors to lost productivity even more interesting. While both workers and leaders alike identify poor technology and workspace environment as significant stressors, the problem isn't being addressed. From the workers' perspective, less than a third (32%) of workers surveyed say their employer has provided technology to connect them when they're remote. They haven't been able to refit a home space or to navigate hybrid and remote challenges less than 3 - 10%, 27% say their company has created a new collaboration space with video conferencing equipment, and fewer still (only 23%) say their company has refitted meeting room spaces with video capabilities to navigate hybrid and remote challenges. In a world where attrition is going through the roof and retention of professionals and team members, it is such a huge strategic priority. That's completely unconscionable. It's not responsible for us as executives not to deal with these changes.
[01:26:28] Lack of the right equipment refitting might be why just 28% of workers surveyed say their employee employer has created a sense of parity, sense of equity, between remote and in-office workers. It's not just workers—leaders do agree less than two and five business leaders surveyed say their company has provided technology to connect when remote again. Refitted home space to navigate hybrid remote challenges, 36%, or create new collaboration spaces with video conference equipment. 35% fewer still say that their company has refitted meeting spaces, and furthermore only 35% of business leaders say their company has created a sense of parity and equity. These are serious issues.
[01:27:14] So, what to make of this? For one, I think there's a significant and remarkable gap in the way we actually work in the infrastructure we set up to do it. And that gap as we even think about our dream about returning to the office is being felt in a consequential way for both leaders and their employees. It has a huge impact on productivity, a huge impact on work related stressors, and a huge impact on the perception of equity and parity in the workplace.
[01:27:51] There's a very complex issue created by the shift of working to hybrid: the work equity, I've mentioned this now, or the sense of parity between the folks in the room and the people outside of it. For hybrid truly work the way people work, the technology and infrastructure that permits it has to be seamless and invisible. At Poly, we say we'll know we've done our job when a meeting ends, and nobody can remember who is in the room and who is not.
[01:28:19] I want to highlight one thing that is critical for getting the technology right for people. We talked a lot about spaces and rules and making sure that we have that proper balance between spaces and people and technology is critical, and the way we talked about it in the past used to be very, very focused on spaces, right? If you were the head of facilities, your primary view was: "Okay, let's focus on the spaces and the amount of square feet that we need per person." If you're the head of IT, you say, "I'm going to focus on the technology." And now, for the first time, those groups are having to work and say, "You know what, let's focus on the people. Let's focus on where the people want to work, how they want to work, and then let's make sure that the space and the technology meet those needs as opposed to plugging the people into space or technology that's already been built out."
[01:29:09] So we have been doing research now for decades back to our early days as Plantronics tied to personas and working personas and we've surveyed many, many thousands of individuals around the world over the past several decades and developed a series of personas that allow us as leaders to say, "Okay, how do my employees want to work and therefore how do I make sure that the space and technology that we have matches to their needs." There's a lot of detail behind these personas but let me just give you the six types here on the screen and think about your own organization and how do you say specific responsibilities or titles aside and see if the types kind of strike you as familiar.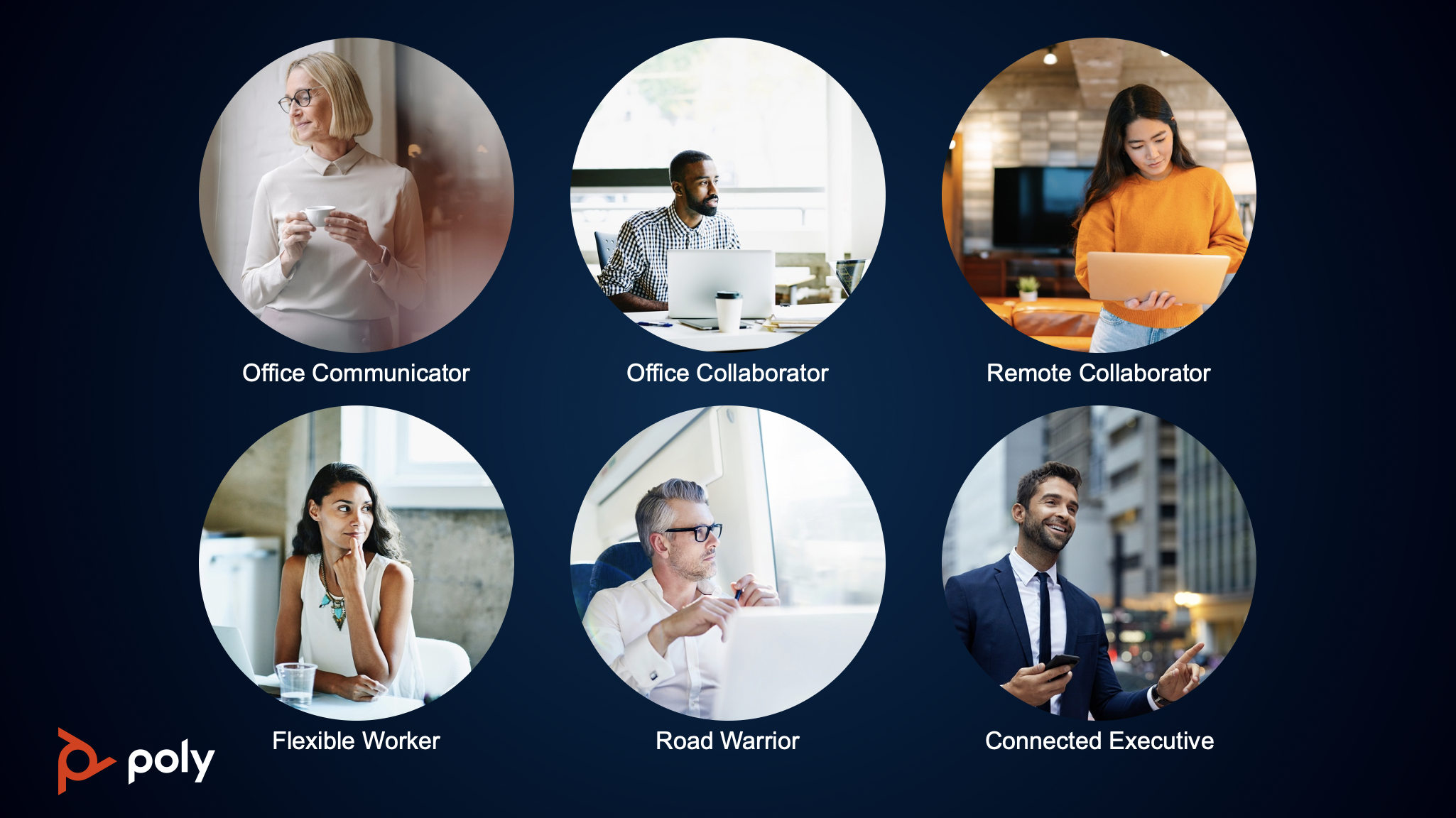 [01:29:52] Think about the office communicator, the office collaborator, the remote collaborator, the flexible worker, the road warrior, and the connected executive. Their use of spaces and therefore their need for technology vary greatly based on what they're trying to accomplish. And if you look at the average profile of these personas over a week when they're in the office, what they expect in the office, how they need to match the space, and the technology varies quite a bit as well. So, we go through this research with our customers, and it's always eye opening.
[01:30:24] In fact, we did the same thing with our own employee base down in Austin, Texas. We looked at the employees within 50 miles of our Austin, Texas location and said, "Okay, let's look at the personas of our workforce and then let's look at the personas that are identified as people who want to be in the office somewhat." And all of a sudden, wow, it's eye-opening. We need to have a lot more room for office collaboration for folks who are in the office a couple days a week. We're in the process of building up a space in a new way outfitted with new technology to make sure that the people needs match the spaces in technology. You know, the key take away is that solving communication needs means a genuine understanding of how people work versus where they work.
[01:31:08] Finally, before we get to some Q & A, let me also bring up the Law of Unintended Consequences. Here's what I mean is that communications and collaboration technology, as it becomes more capable and sophisticated and is simultaneously deployed at scale within any organization, has the potential to become both one of the most valuable tools that the enterprise has in order to improve and differentiate itself, but it can also create real issues because of the amount of data and information that they collect, process. and transmit.
[01:31:40] For example, in terms of the premises management and having a clear understanding of how your facilities are being used and by whom is important for not only making informed economic decisions about space requirements that Poly, we've come back on our space by more than 25%, but also for safety and security, especially during a pandemic. Are people cleaning properly or are people spacing appropriately?
[01:32:04] Well, this can be accomplished, and with an incredible amount of detail, by using smart communications endpoints. They can do people framing, people counting, awareness of compliance with COVID policies. They can report for how long and how many people are there and what they're using them for. But a huge concern for all these management teams in an era of hybrid and distributed workforces is training. How can we help people learn to manage the sales calls or provide better customer experience? What if a smart headset paired with AI can alert the manager to calls that were not proceeding smoothly and literally pass the manager into the call without someone walking across the room to provide a coaching session? Hugely valuable from a customer experience point-of-view, but there's privacy and data concerns tied to that. Or, what if I'm missing a call right now with my leadership team because of this speaking engagement, but AI can not only capture a log of the call, but more useful from a timing point-of-view, transcribe the details and create a summary of the key points that I need to focus on, or my executive team was most focused on the conversation or most engaged in the dialogue, and it wasn't just sort of a rope readout of some presentation. AI is all capable of doing that. We just have to enable it and understand the privacy and data issues tied to that.
[01:33:24] What if that same AI could capture everything that was written on the whiteboard in a room? In fact, in the year of 2022, when my kids can play massively online games (I try to restrict this) in the Metaverse with five thousand other kids, why is it that a fully integrated digital whiteboard doesn't exist for a five-person sales call. And again, a smart digital whiteboard that can provide me the synthesis of what I need at the end of the meeting as opposed to the $0.25 of brainstorming that happened ahead. What will happen to our calendars to make them fully integrate with communications platforms and devices and all of our logins so the video gear in Meeting Room A immediately recognizes me as I walk into the room with my headset in my laptop and it starts my meeting on time without having to try to remember the password or my Bluetooth earbuds links or whatever else it would require, right? The technology just has to work, and all the smarts and capabilities of AI and ML have to come into these endpoints and create an amazing experience.
[01:34:29] What kind of infrastructure is going to be in place to collect, route, and optimize the transmission of all this data and keep it secure? What kind of analytics can be performed by AI and ML to enable smart infrastructure to analyze and index all this data and turn it into valuable, proprietary, and differentiated information.
[01:34:51] Let me wrap up by saying that it feels to me like there has been a lifetime of change in this market since I jumped in and that was just about 18 months ago now. Because of that, and in particular because of the fast convergence of hardware and software, I don't think the winners in this space are going to be the folks who thinks communications is just about endpoints. It's going to be about maximizing the advantage of tech to make real connectivity possible, to remove the lack of parity, to make true equity possible, and then to apply the intelligence at the edge with the endpoints to have true insights that drive business decisions that create a competitive advantage. It means solving really hard problems like meeting equality and being an agent of change for culture because communications, it's not just an afterthought. It's not the fabric that holds the company together whether the people are in the room or out of the room. From our point-of-view, it has to make sure that it works, it just works, just make it work, all the time.
[01:35:58] I also think there's never been a greater opportunity. This transition, this massive change in the future of work, which is right now—it's not the future, it's right now—has never been a greater opportunity potential and the possibility for enterprise communications. We're all here because we know this, we love this, we see the opportunity, and I think the moment is now. And so, with that, let's move to questions and see what the rest of you would like to hear more about."
Watch the full video here to match the time stamps.